(continued from Presskit Page)
Long-time musical partner Suzanne Tomczak (The Lovely Miss Minxie) adds power and punch to the rhythm section with her rock-solid bass, while Scott Irwin (Buddahaid) rounds out the rhythm section with expressive and dynamic performance on drums. Their arrangements run from heavy and dripping with metal-esque riffage, to clean and sweet with the classic Stratocaster sound, all framing Rick's powerful and expressive vocals and pop-oriented and provocative writing. 
Historical Development    
The core group was founded by Rick and Suzanne in 2009 under the name Li'l Ricky Blues. With guitarist Paul Meltzer and drummer Scott Irwin, the band played a combination of classic rock with traditional and original blues. Rick began to write for the band, and recorded and released their first album,"First Time, The Charm"in 2010.  The band continued to play private parties and business events, and then in 2011, recorded and released "Biskits & Gravy", a collection of original blues written by Rick and Suzanne.
By this time guitar-ace Chris Hansen and drummer Bob Montes were working with the group as they played a combination of original showcases act and variety band gigs. As they expanded their repertoire to include more classic rock and jazz and easy-listening, the band saw the need to select a name that was more representative of what they had become.
Axis Of Four, played their first gig under that name in late 2012 at the Golden Gate Yacht Club on San Francisco Bay. By that time Rick had finished writing a selection of tunes to complete the band's original live stage show.  He brought the band into Bill Bentley Productions and produced the tracks for "Flintstoned", their first indie-rock album. This was mastered by John Cuniberti, and released by Ratso Recording & Music in late 2013.  The Axis of Four continued to perform showcases promoting their original music, while also getting more gigs playing their expanded variety repertoire.
By early 2015 the band had added Curt M, who played drums on "Stem The Tide" and "Amerika 2021". Guitarist Norman Villacorte joined the group in the spring of 2016, and Scott Irwin reunited with Rick and Suzanne later that summer.
The band played as a trio while working with Platinum Engineer Dale Everinham to record the next album. In the meantime, Rick met Jerry Davis of Legacy Music Project and EpicMusicLA, and began a two-year studio project of writing, re-doing previous songs with a harder edge, and producing new hard rock and indie-pop. Now Rick is part of the Legacy and Epic music libraries offering content for sync licensing and music publishing.
The band now has some great new material for our fans, with the album "AMERIKA 2021" due out on the 4th of July. We also have our pandemic song, "HOLD ON" in the select single pipeline.
After being isolated for the duration of the pandemic, the band is working on writing and arranging a punk / power pop album, while promoting "AMERIKA 2021", and preparing the follow-up album in the production pipeline
Semper Iratus
The Core Band
Rick Cittar has been a bandleader, arranger, guitarist, and vocalist for two decades. He worked with Grammy-winning producer Steve Horowitz to produce his tune, "S'not Love", for Illumina Records in 2007. He is the writer/composer and main vocalist for the Axis Of Four, and was a proponent of the Nigel Tufnel 'play-by-the-dots' guitar method. He has spent the past two years producing songs for the band, and is a signed artist. Rick is also a faculty member with the Bradley School of Music in Lafayette, and can be found performing with Patrick Bradley, Rick King, together with musical maestro Orestes Vilato thrice monthly at the school's adult and family jams. Also, a tin teardrop.
Suzanne Tomczak is a classically trained flautist who toured with her school honors band, and has the distinction of having performed at Notre Dame in Paris, and the renowned Carnegie Hall in New York.  Switching to bass after hearing the Germ's Lorna Doom, The Lovely Miss Minxie and Li'l Ricky have played together for many years and through many gigs. She is the solid sonic backbone of the Axis Of Four.
Scott Irwin, or BuddaHaid to his fantasy cronies, is long-time veteran of the Bay Area music scene.  He has played in many popular local bands and is an experienced studio player. Scott is also listed in the IMDB for creating some props featured in a Star Trek movie. He was the original drummer with Li'l Ricky Blues, so Scott and Suzanne fit right in the pocket as the current rhythm section of the Axis Of Four.
Axis Of Four - Bridging contemporary music with classic rock
Thanks for listening!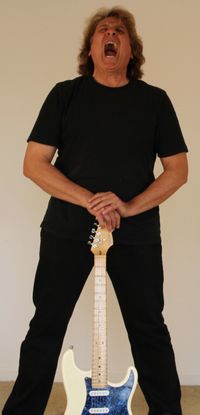 LI'L RICKY

As a young lad his parents thought he was going to be either a priest, a doctor, or a lawyer, even though he used to sing along with his mom's LP's and .45's,  Then one day the child heard  Jimi Hendrix, and that musical ephiphany redirected Li'l Ricky on the highway to hell of being a professional musician.
Produced "S'not Love" with grammy winner Steve Horowitz, Produced Biskits & Gravy  for Li'l Ricky Blues at Bill Bently Productions. Rick is an Illumina Records recording artist on San Francisco Rockers for Life 2007 CD, featuring his tune, "S'not Love" . He has also written and produced jingles for local businesses. Long-time songwriter, and singing all his life, Li'l Ricky is  a credentialed instructor with the Bradley School of Music in Concord, CA. Also, a tin tear drop.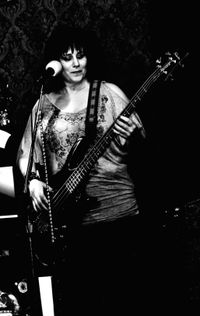 THE LOVELY MISS MINXIE
She was strongly influenced and encouraged by her high school band teacher, and actually ran into him at a gig one night. Classically trained as a flautist, Miss Minxie is a cracker jack reader. The first song Miss Minxie played on the bass was "Twist Of Cain" by Danzig.

She has been partnered with Li'l Ricky from the beginning of their first band, Li'l Ricky Blues, and collaborated with him on writing "Biskits & Gravy".  Though she loves dem blues, Miss Minxie will rock you all night long, and has been a key member in developing and performing with the AXIS OF FOUR. Her role in the band is as she loves to say, "keeping the sound sweet, fat and low. and keeping the rest of ya'll in time!"

Sleeps with a .45 Grave just above her bed.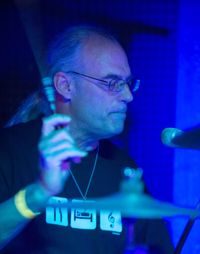 BUDDAHAID 
aka Scott Irwin, is a long-time partner in music and entertainment with both Li'l Ricky and the Lovely Miss Minxie. He plays drums on the band's recording of "Gojira"from their first album, and started as a drummer to annoy his parents with his incessant pounding on the skins whilst a child.  Scott plays many traditional Irish and Old American tunes on the mandolin, and is known to wear a kilt on many an occasion. In moments of reverie, BuddaHaid might think that working with the Axis Of Four is more than he can assimilate in one lifetime, and of course, he would rather play with Li'l Ricky than have a vasectomy.